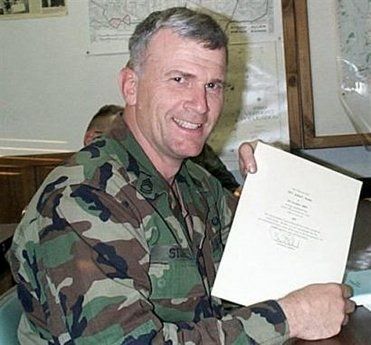 I came across a sad, yet inspiring story in
Yahoo! News
. The story gave a brief account of Sergeant Tom Stone, who was killed in action in Afghanistan. This guy was a true hero, and surprisingly, the media gave a great account of his life:
MONTPELIER, Vt. - When Tom Stone joined the Army in 1971, one of his reasons for doing so was unusual: He hoped to find clues about his brother's disappearance in Southeast Asia the year before.

He never did find what he was looking for, but he spent the next 35 years in and out of the military. That career came to an end last week when Stone, 52, a sergeant first class with the Vermont National Guard, was killed in Afghanistan, possibly by friendly fire.

***

Stone was a junior in high school when his older brother Dana, a freelance photographer, disappeared in Cambodia on April 6, 1970, along with Sean Flynn, the son of the actor Errol Flynn. Dana was on assignment for CBS News and Flynn for Time magazine; they had ridden into the Cambodian countryside on motorbikes when they were captured by communist guerrillas.

Tom Stone joined the Army the next year.

"He had it in his mind he might go and try to find his brother," said Elisha Morgan of Norwich, who played football with Stone at Woodstock High School.

Dana Stone's widow, Louise, who died in 2000, was told her husband and Flynn were probably tortured to death.

Later in his adventure-filled life — on a 22,000-mile walk around the world — Tom Stone visited Cambodia, but cousin Sally Britton didn't know any details about how he might have searched for his brother there.

"Tom was always telling stories, but he never talked about his feelings," she said.

But what he lacked in self-expression, he more than made up for in helping others, those who knew him said.

***

Stone died as he was helping Afghan soldiers repel an attack by Taliban militants on an Afghan base. He was promoted to master sergeant after his death.

"He was the best friend anyone could have, anybody," Morgan said. "I know when he was shot he was helping others. That's all he did. He never cared about financial gain. He did it out of love for humanity."

Stone was on his third tour of duty in Afghanistan with the Vermont Guard when he was killed. During his earlier Afghan tours, Stone, a medic, set up a clinic for Afghan civilians in a shipping container. It served thousands of people.

"There were nights when they physically had to carry him out of there back to his bunk," said Vermont National Guard Maj. Tom Cahalan. "It was phenomenal."
Thank you, Sgt. Stone. Your efforts have saved thousands of lives - from Afghanistan to your fellow citizens in the USA.